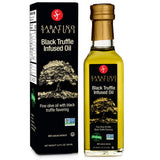 [Pre-order] Sabatino Tartufi Black Truffle Oil
La Petite Fromagerie
Black truffle infused oil combines premium Italian olive oil and Sabatino's all-natural black truffle extract derived from our proprietary steam extraction process. The flavor is reminiscent of cocoa, nuts, and earthy notes. 
Kosher, Vegan, Non-GMO Project Verified, Gluten-Free, Dairy-Free, Soy Free.
Recommended uses: Use as a finishing oil to drizzle a few drops onto eggs, pasta, pizza, risotto, potatoes, polenta, meats, and fish. It can also be used for marinades and salad dressings. 
Baked Feta Pasta
Serves 4-6

INGREDIENTS:
1pc. Malagos Farmhouse Feta Tricolore
500g cherry tomatoes 500g pasta

PROCEDURE:
1. Drizzle extra virgin olive oil and season one pack of cherry tomatoes and a few cloves of garlic with salt, pepper.

2. Add a pack of @malagosfarmhouse feta in the middle of your baking dish. You may include fresh herbs if you have any available such as rosemary or thyme.

3. Bake in the oven for 15-20mins at 220°C.

4. Mix all together with the pasta.

5. If you find it too dry, you may add more olive oil.

6. Sprinkle with red chili flakes and basil to finish.

7. ENJOY!!!
Scheduling your delivery
Our delivery days are Tuesdays, Wednesdays, Fridays, and Saturdays. Don't forget to schedule your delivery upon checking out!

Manila Pick-up
Pick ups are scheduled every Tuesdays from The Plaza Ham store at Petron Dasma Makati. You may choose this option upon checkout.
Pick up details: THE PLAZA HAM PETRON DASMA.
Pin on Lalamove: Petron Dasma.
Contact Person: Angela, 0917 516 42 67.
Manila Rates
San Juan, Mandaluyong, Pasig: Php 150
Makati, BGC: Php 150
QC, Manila, Pasay: Php 200
Alabang, Antipolo, Caloocan: Php 250
Las Pinas, Paranaque: Php 500
Provincial Rates
We have delivered to nearby areas such as Rizal province, Cavite, and Tagaytay. Delivery charge will depend on the location. Send us an email with the following details so we can send you a quotation.

Name:
Mobile Number:
Delivery Address:

Send us a message
We accept BPI, BDO, GCash, Maya, and Paypal. We accept credit card payment via Maya and Paypal.
CHECK THIS PAGE
for the bank details.