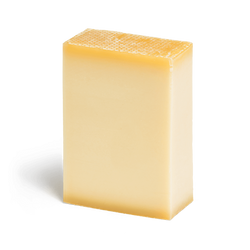 Le Gruyère
La Petite Fromagerie
Connoisseurs and gourmets the world over are familiar with Le Gruyère AOP due to its typical, fine aroma. This popular hard cheese has been produced in the region around the small town of Gruyère in the Freiburg canton for several centuries. It is still produced in line with the traditional recipe in the village creameries of Western Switzerland to this day.

Around 400 liters of fresh, unpasteurized milk is required to produce one 35 kg wheel of cheese. The cows who supply this high-quality raw material feed on pasture grass during the summer months and are fed hay in the winter. No additional ingredients can be added to the cheese. The maturation period lasts several months. During this time, the wheels are turned several times and washed with brine. The moisture allows for the formation of a smear, which helps to ripen the cheese between the rind and the inside of the wheel. This in turn lends Le Gruyère AOP its unique flavor. The protected designation of origin (AOP, or PDO in English) guarantees that only Le Gruyère AOP is sold that fulfills strict quality requirements stipulated in the product specification.

Photo from: https://www.cheesebar.ca/
Baked Feta Pasta
Serves 4-6

INGREDIENTS:
1pc. Malagos Farmhouse Feta Tricolore
500g cherry tomatoes 500g pasta

PROCEDURE:
1. Drizzle extra virgin olive oil and season one pack of cherry tomatoes and a few cloves of garlic with salt, pepper.

2. Add a pack of @malagosfarmhouse feta in the middle of your baking dish. You may include fresh herbs if you have any available such as rosemary or thyme.

3. Bake in the oven for 15-20mins at 220°C.

4. Mix all together with the pasta.

5. If you find it too dry, you may add more olive oil.

6. Sprinkle with red chili flakes and basil to finish.

7. ENJOY!!!
Scheduling your delivery
Our delivery days are Tuesdays, Wednesdays, Fridays, and Saturdays. Don't forget to schedule your delivery upon checking out!

Manila Pick-up
Pick ups are scheduled every Tuesdays from The Plaza Ham store at Petron Dasma Makati. You may choose this option upon checkout.
Pick up details: THE PLAZA HAM PETRON DASMA.
Pin on Lalamove: Petron Dasma.
Contact Person: Angela, 0917 516 42 67.
Manila Rates
San Juan, Mandaluyong, Pasig: Php 150
Makati, BGC: Php 150
QC, Manila, Pasay: Php 200
Alabang, Antipolo, Caloocan: Php 250
Las Pinas, Paranaque: Php 500
Provincial Rates
We have delivered to nearby areas such as Rizal province, Cavite, and Tagaytay. Delivery charge will depend on the location. Send us an email with the following details so we can send you a quotation.

Name:
Mobile Number:
Delivery Address:

Send us a message
We accept BPI, BDO, GCash, Maya, and Paypal. We accept credit card payment via Maya and Paypal.
CHECK THIS PAGE
for the bank details.